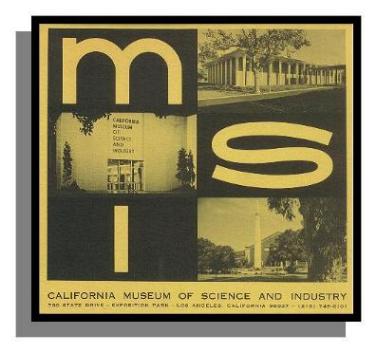 ---
CALIFORNIA MUSEUM OF SCIENCE AND INDUSTRY 1951-1996
---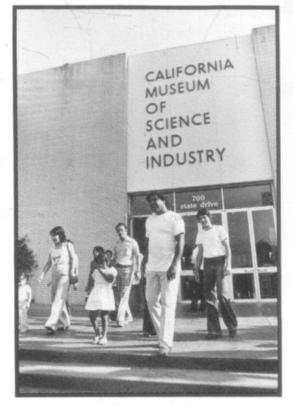 Does anyone else remember the OLD California Museum of Science and Industry in downtown Los Angeles, before its current incarnation as the California Science Center?!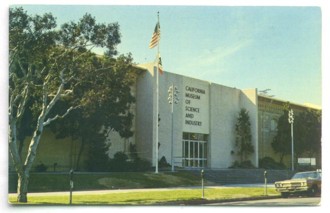 What magical memories were held in those hallowed halls! Can you add to these 1960s and 1970s reminiscences of old museum exhibits?
"MATHEMATICA" with its multiplication matrix of lightbulbs; the Moebius Band with the motorized arrow that illustrated how the twisted strip has only one side; the display on topology using soap bubbles...
"AGRICULTURE" with its incubators hatching baby chicks; the redwood exhibit; the see-through bee hive...
"TRANSPORTATION" with one of the world's largest model railroads traveling through a diorama of California landscapes...
"ELECTRICITY" with its mad-scientist-style spark machines and Benjamin Franklin flying his kite...
"COMMUNICATION" with its wave-form sound display of voices on the telephone...
"ENERGY" with its natural-gas powered balloons and billiard balls rolling around a roller coaster-style tube track...
"THE TURNING WHEEL" depicting the evolution of the automobile...
"KINSEY HALL OF HEALTH" featuring "Clearissa," the Transparent Woman, whose body moved and illuminated as she explained various physiological functions; "Neuroman," a mannequin display clocking the time it takes for the brain to react to a hot touch; the dentistry exhibit with the giant tooth...
---
Sadly, there are no sites on the Web dedicated to the old California Museum of Science and Industry (except for ancient history pages here and here).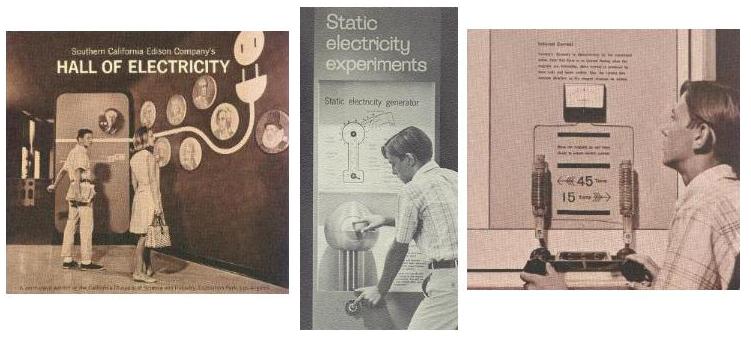 As for images of the old CMSI, I am currently on a quest to acquire postcards, brochures, guidebooks, and any other memorabilia (especially from the 1970s; even photocopies will suffice).

Through exhaustive research, I have been able to amass a collection of precious images and articles and proudly display them on this site. I hope to add more as my search contiues, so please return soon for another look.

Meanwhile, if you can contribute any memories, please e-mail me! Many thanks to Joyce Ruiz at the California Science Center, Edward Garcia, and Anthony Maiorino for their gracious assistance.
---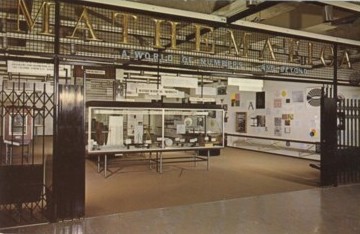 By far the most memorable museum exhibit, "Mathematica" was the brainchild of Charles and Ray Eames in 1961. The classic attraction featured ten major displays covering such advanced concepts as geometry, probability, celestial mechanics, and topology.
Be sure to view an amazing 360-degree Quicktime VR presentation of the installation, courtesy of the Eames Office.
"Mathematica" paid its farewell visit to the California Science Center in 2002.
Read about my visit.
---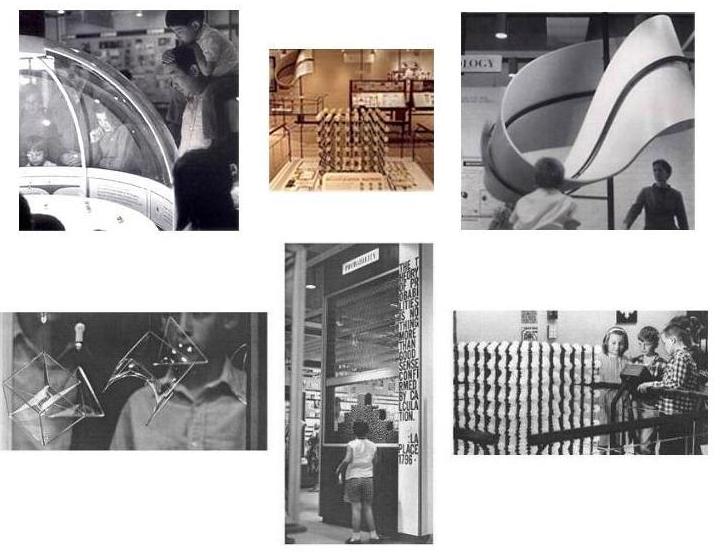 ---

In the Agriculture exhibit, visitors witnessed chickens hatching and bees making honey and acquired a better understanding of the social and economic impact of innovations in modern agriculture (concepts quite foreign to the city kid in downtown Los Angeles!).
---
In the Energy exhibit, rolling and colliding billiard balls demonstrated potential and kinetic energy and the transfer of mechanical energy, while mylar balloons powered by gas burners rose from a density difference between the heated air inside them and the cooler air outside.
---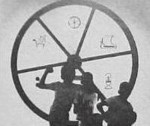 "The Turning Wheel" dramatized the impact of advanced technology on the automotive industry and traced the evolution of the automobile and the internal combustion engine.
Exploring "Milestones in Man's Mobility," the exhibit was sponsored by General Motors and featured a "test track" and an animated presentation in which characters argued over the best engine for the future.
---

---
MORE! DELVE INTO THE ARCHIVES...
---
MY CMSI VINTAGE POSTCARD COLLECTION -- 23 CARDS (UPDATED 2016!)
---
CMSI floorplan!
1971 Westways CMSI article with photos!
1950s and 1960s Sunset CMSI articles with photos!
1930s EXPOSITION PARK MAP!
MY 2002 MATHEMATICA VISIT TO THE SCIENCE CENTER!
1969 L.A. Times article with photos!
---
ADDED 4/16! APOLLO 11 MOON ROCK BROCHURE!
---
ADDED 4/14! 1976 Great World of Model Railroading 5-PAGE ARTICLE ON CMSI MODEL TRAIN!
---
ADDED 7/11! 1980s CMSI AEROSPACE MUSEUM BOOKLET!
---
ADDED 7/11! 1980s CMSI BROCHURE!
---
ADDED 5/11! 1971 CMSI SUMMER SCIENCE WORKSHOP CATALOG!
---
ADDED 5/11! 1972 CMSI SUMMER SCIENCE WORKSHOP CATALOG!
---
ADDED 3/09! REDWOOD EMPIRE ROOM PHOTOS AND EXHIBIT RESCUE STORY!
---
ADDED 9/07! 1963 MOTOR TREND "TURNING WHEEL" EXHIBIT ARTICLE!
---
ADDED 7/06! 1970s DENTAL EXHIBIT BOOKLET!
---
ADDED 5/06! 1950s CMSI BOOKLET!
---
ADDED 4/06! 1960s GENERAL MOTORS AUTOMOTIVE EXHIBIT BOOK -- 15 PAGES!
---
ADDED 9/05! 1970s HALL OF HEALTH EXHIBIT BOOK -- 19 PAGES!
---
ADDED 9/05! 1960s MATHEMATICA EXHIBIT BOOK -- 40 PAGES!
---
ADDED 2/05! 1970s MATHEMATICA BROCHURE!
---
ADDED 10/04!
1950s CMSI BROCHURE
1960s CMSI BROCHURE
---
---
ADDED 9/04! VINTAGE CMSI PRESSBOOK WITH PHOTOS!
---
Here's a great way we can share CMSI memories!
Leave your reminiscences on my MESSAGE BOARD!
---
---

---

---
---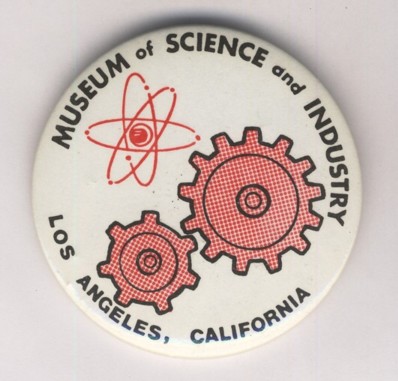 ---